Agnès Troublé, founder of French lifestyle-oriented label agnès b. CAFÉ & FLERUISTE, has long spread the gospel of French savoir faire and traditions through gastronomy and floristry. As May brings the annual French May, agnès b. CAFÉ debuts an event-exclusive Classic Opéra Cake, coffee brew bags and 4 brand new pastries.
Premium French Ingredients in Traditional French Flavours
French pastries are known for their attention to detail whether in flavour or aesthetics – an apex in dessert-making that has captured the world. All the pastries at agnès b. CAFÉ are hand-made according to traditional recipes and only with premium ingredients from France. French flour spotlights on stronger wheat aromas, is richer in minerals, has a finer texture, and, therefore, make silkier pastries. French butter, meanwhile, is creamier than the normal version; while a mixture of Trimoline (invert sugar) and sugar are used to promise extra moist cakes – a practice from agnès b. CAFÉ. The in-house pâtissiers are all craftsmen who make every dessert by hand according to traditional recipes. A simple cake is a brainchild of years of experience and a production of up to 6 hours, making every one of them a true art form.
Classic Opéra Cake Exclusive to The French May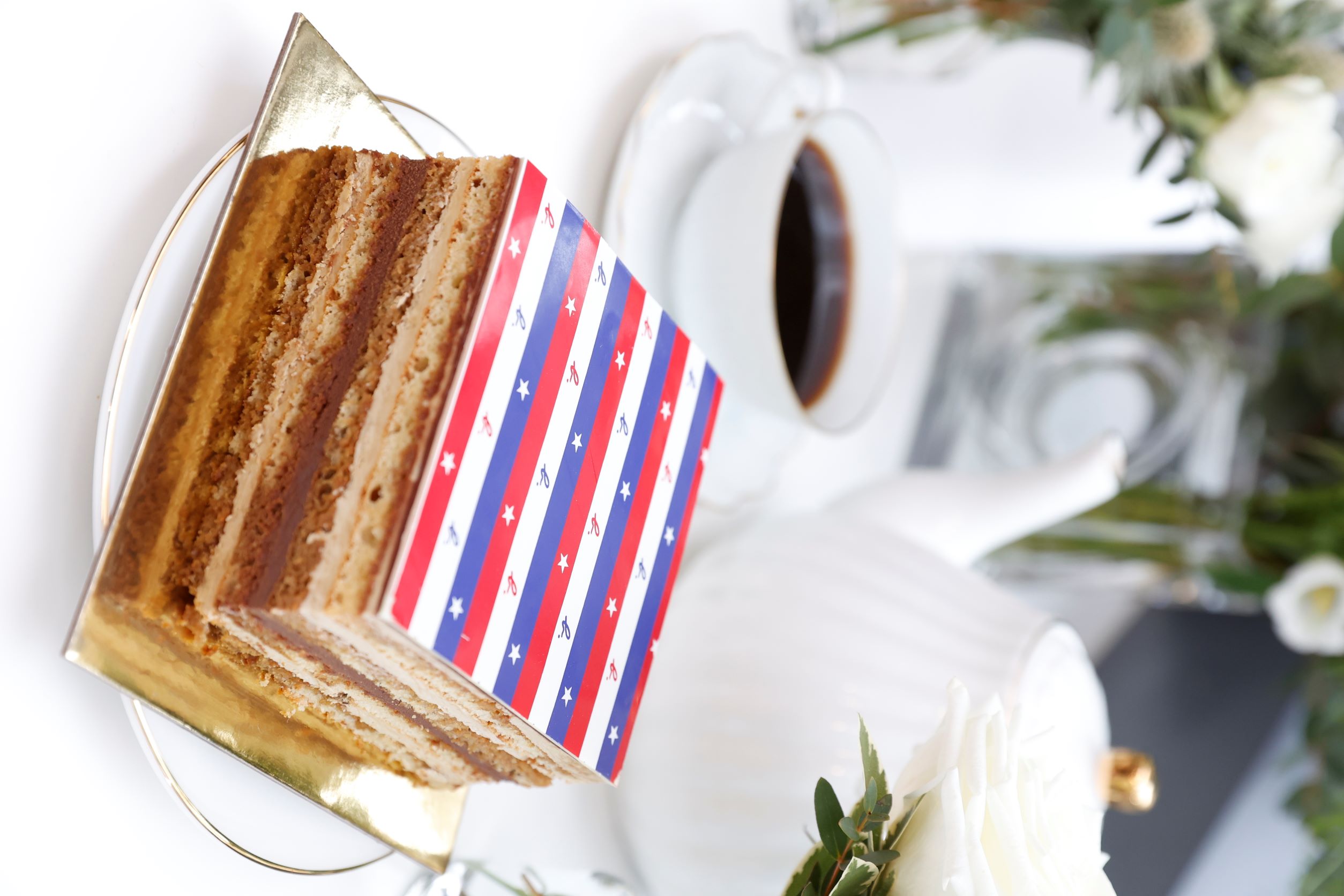 The Opéra Cake is a French classic – its layers and silhouette mimicking Opéra Garnier in the 9th arrondissement of Paris, France. The trifecta of textures and flavours – almond biscuit, coffee butter cream, and chocolate ganache – must be equal in thickness and maintain a square and smooth surface all around: the Classic Opéra Cake is a true test in assembly, design, craftsmanship and ingredients.
agnès b. CAFÉ's Classic Opéra Cake is completely hand-made by their experienced in-house pâtissiers. A process that can take up to 6 hours, this culinary masterpiece uses only premium French ingredients including agnès b. CAFÉ-exclusive French chocolate made with 64% rich cocoa and hints of florals.
To celebrate The French May, agnès b. CAFÉ's Classic Opéra Cake is hand-stamped with a layer of white chocolate highlighting recognisible colours of blue, white and red – a true testament to the craftsmanship and thoughtfulness of agnès b. CAFÉ's pâtissiers.
New French Pastries for a French Summer
As summer rolls around the corner, agnès b. CAFÉ debuts 4 new French pastries to transport you to a summer in France, where flowers abloom and the warm sun is ablaze.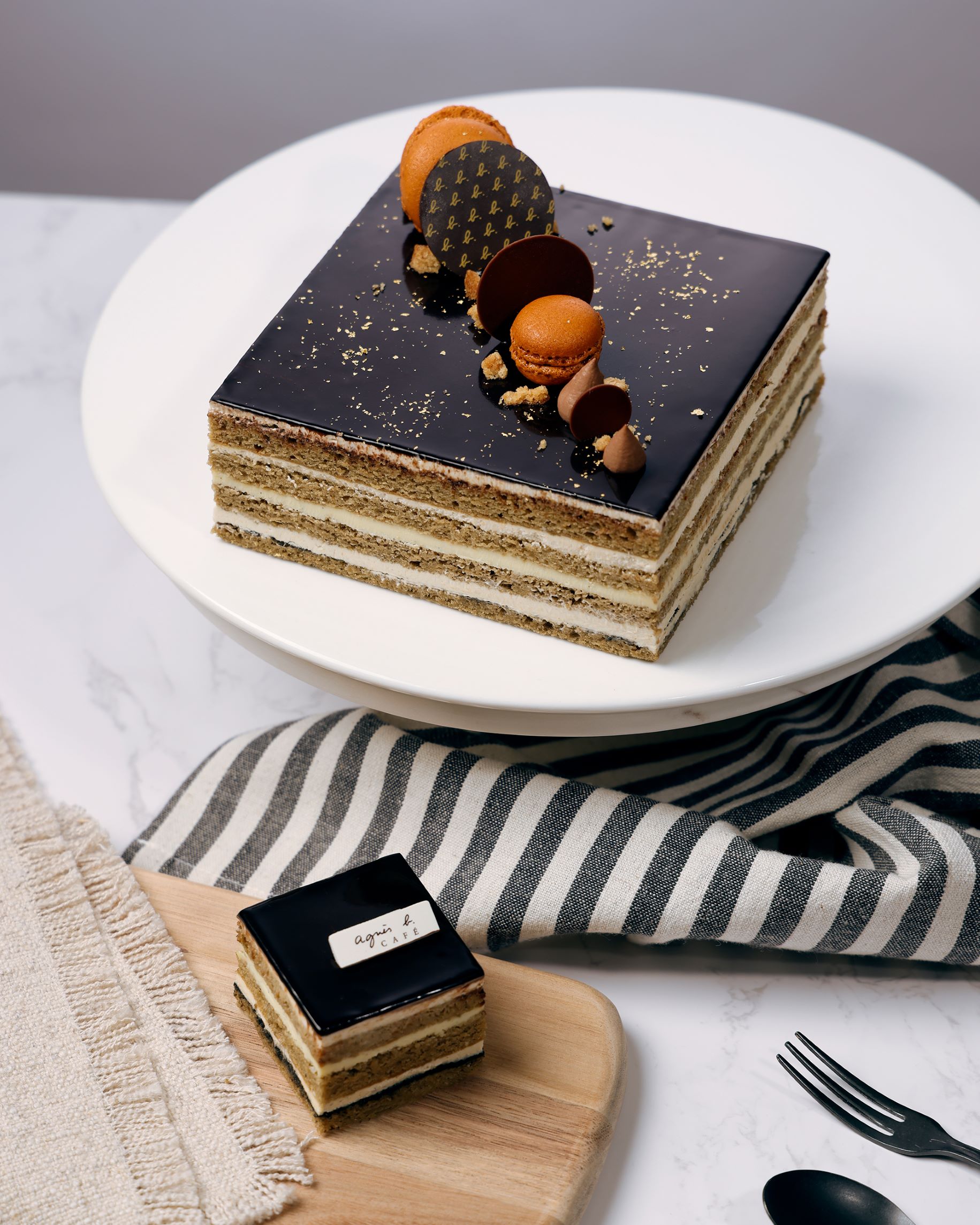 A sibling of the classic French Opéra cake, Sésame is a playful interpretation of a traditional recipe and features delicious white sesame buttercream, black sesame, hojicha joconde and chocolate ganache for mouthfuls of delicious surprise. The Asian injections of hojicha and sesame highlight bittersweet hints that marry perfectly with the cocoa for a silky texture. Sésame is topped with macarons and chocolate flakes for extra pizzaz!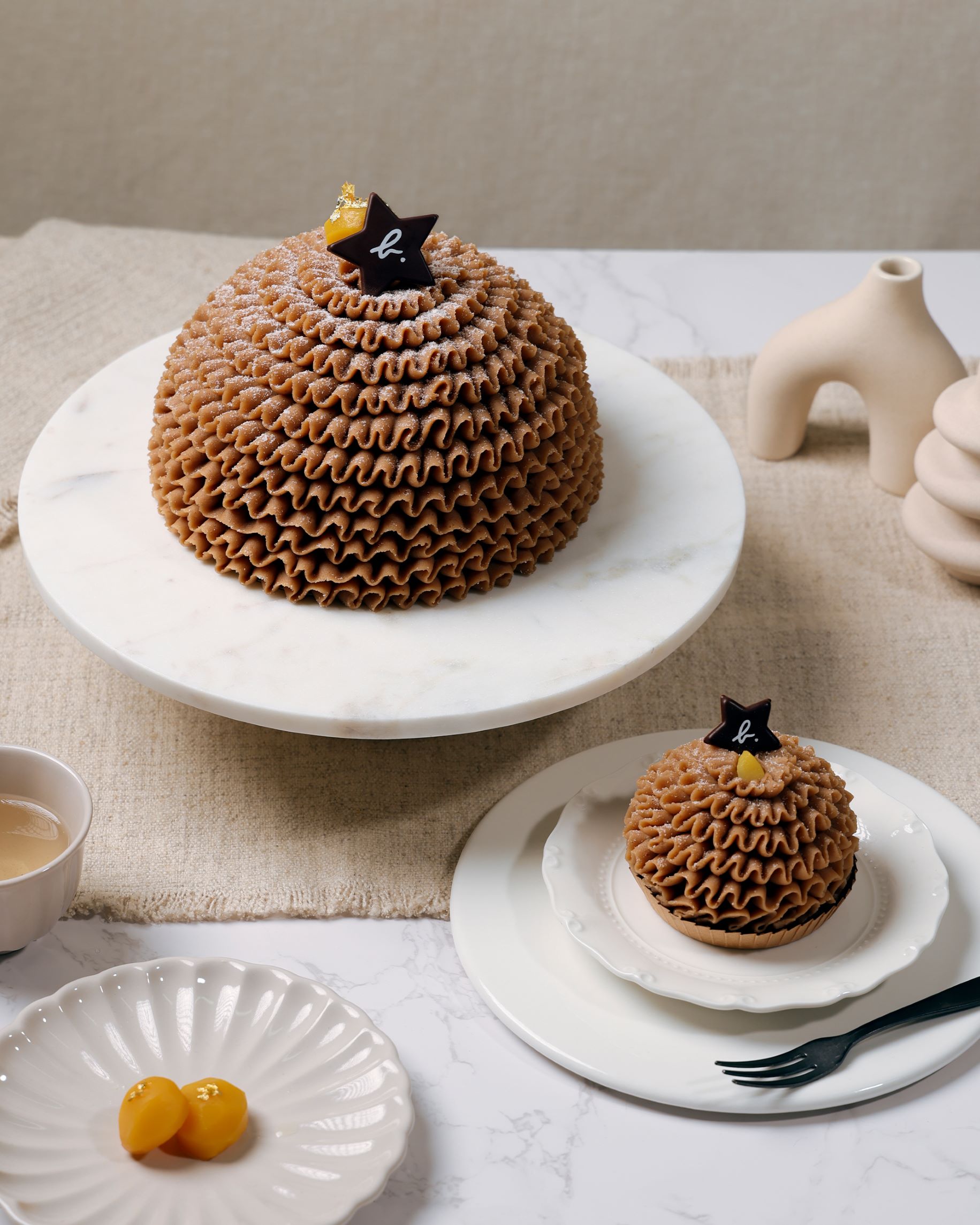 All-time favourites Valérie and Mont Blanc also reveal new looks! The meriangue base is topped with delectable chestnut mousse and vanilla chantilly cream. The dot of chestnut paste on the top takes the spotlight!
Coffee Brew Bags Turn Every Meal into a Sustainable, Eco-friendly French Affair
In the beginning of the year, agnès b. CAFÉ debuts the coffee brew bags that shot to fame. In lieu of The French May, there is a special packaging featuring unique blends – the all-new Honduras El Puente and the classic Le café agnès b. . Sustainability has long been at the forefront of agnès b. – the former blend has received a Sustainability Certification from the Rainforest Alliance; while the latter has received it from the USDA Organic, Rainforest Alliance and Cooperative Fairtrade. Aside from its au-naturale features, these blends also tell touching tales.
The all-new Honduras El Puente tastes of dried oranges, chocolates and wine – a fruity mélange that perfectly complements The French May. The blend is grown in the Hondurian El Puente coffee farm that's not only headed by 2 women, but is mainly operated by women who'd otherwise not have a chance to engage with society. The farm also provides housing and school for the staff's children to ensure they have a better livelihood.
A favourite at agnès b. CAFÉ, Le café agnès b. highlights cocoa, almond and molasses. This nutty blend boasts a long aftertaste that's perfect for pairing with cakes or agnès b. DELICE's chocolates. The Le café agnès b. blend is home to a trifecta of coffee beans from different regions including Ethiopia Sidamo, Guatemala and Sumatra. Sumatra's farm works specifically with the Ketiara Cooperative, which employs war widows so they can support their families. agnès b. works closely with partners who share the same sustainable ethos with hopes to not only provide good products and services, but also to share love around the world.
agnès b. CAFÉ
6/F Kiosk, 6/F