Taking pride as a gourmet city, Hong Kong has more than ample culinary options, no wonder it's always hard to pick a restaurant while dining out with friends and family! Whether it's a lunch or dinner gathering with friends or intimate date nights, we have gathered the below restaurants that are sure to offer you the best of international cuisine choices in a relaxing setting, savouring this precious moment with your loved ones over world-class dining experience.
Crystal Jade La Mian Xiao Long Bao – Top-Notch Traditional Chinese Gastronomy
For a traditional Chinese culinary experience with guaranteed quality, Crystal Jade La Mian Xiao Long Bao is the place to go. Apart from the freshly made La Mian by their resident chef and piping hot delicious soup-filled Xiao Long Bao, traditional dishes such as ' Braised Minced Pork Ball with Mushroom & Bamboo Shoot', ' Sautéed Prawn in Hot & Sour Sauce', 'Chilled Shredded Chicken & Flour Skin with Sesame Sauce' are some of the most popular choices. Now you can enjoy up to 16% off discount when sharing the 'Set for 4 in Shanghainese Style'* with friends. Catch up over 2 Appetizers, 2 signature of Dim Sum, 3 Dishes, 1 Staple Food, Dessert & Beverage; choose your main dishes/ dim sum like 'Steamed Porcini Xiao Long Bao', 'Simmered Sliced Fish and Picked Vegetable in Spicy Soup', Braised Pork Belly served with Vegetables' and 'MaPo Beancurd', etc. Paying with selected payment gateway offers you and your friends up to HK$60 discount, what a delicious way to enjoy traditional Chinese gourmet with one of the best offers in town!
*Other Terms and Conditions apply. Crystal Jade reserves the right to terminate this promotion offer at any time without prior notice. Validity of this offer is subject to final decision of the company.
Crystal Jade La Mian Xiao Long Bao
Shop B221A, B2/F
Fashionable Party at Vanda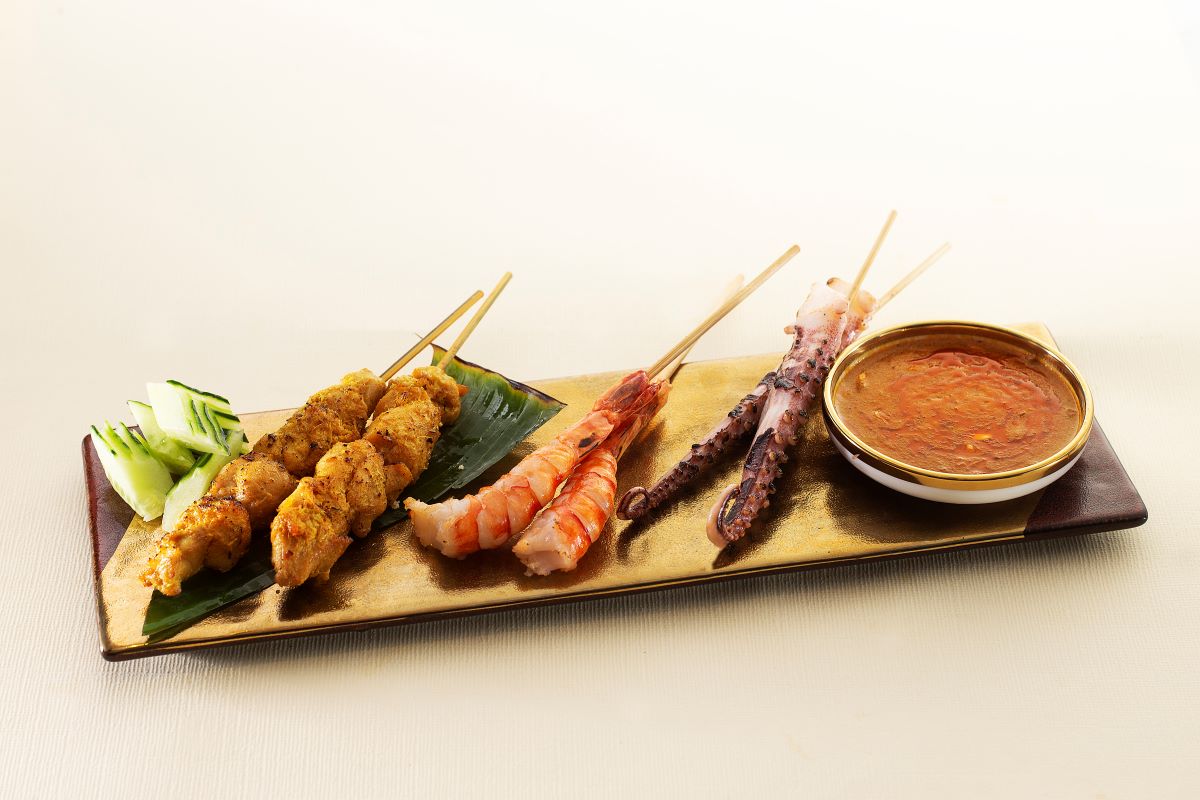 Managed by seasoned Singaporean chef with over decade-long of experiences, from ingredients sourcing to production, every single dish was meticulously designed and carefully curated to ensure authentic Singaporean taste is delivered through signature dishes such as Hai Nan Chicken, Laksa and Prawn Mee. While you savour the flavoursome food, you are also immersed in the visually pleasing, elegantly designed space that exudes an artistic charm. A visit is incomplete without tasting some of the most popular street food dishes like Street Skewer Platter completed with chicken, prawns and grilled squid whiskers, complimented with Sambal Sauce made with secret recipe and Singaporean beer – one of the best experiences for your taste palette.
Vanda
Shop 625- 626, 6/F
Greyhound Café – The modern twist on Thai Cuisine
When friends gather, food is crucial, especially high-quality seafood and meat. As the first casual restaurant of a fashion clothing brand, Greyhound Café upholds a modern dining concept to offer a unique East Asian culinary experience. Taking traditional Thai cuisine with a western cooking element, the result is an innovative Thai flavour. Among them, the Grilled Fresh Manila Clams with Chili Lime and Pan-Fried A4 Wagyu Steak are must-try choices!
Greyhound Café
Shop 1104, 11/F
Zushi ANA – Ultimate Freshness
As soon as you enter Zushi Ana, the bar, upholstered using a Japanese street hawker style food truck captures your attention. It is where a Bartender mixes in the 'truck' such as cocktails, beer and whisky in the 'car', that would be sent to guests sitting on the wooden chairs in front of it, recreating an Izakaya experience. Furthermore, for friends who share the same love for quality sashimi, Zushi Ana's Deluxe Assorted Sashimi Platter is the best option. Freshly delivered from Japan, it includes 9 kinds of jet-fresh premium cuts, such as Fatty Tuna, Yellowtail, Salmon, White Fish, Scallop, Botan Shrimp, Salmon Roe and Snapper. Talk about freshness!
Zushi ANA
Shop 1202, 12/F
PizzaExpress – Tastefully Satisfying
British chain PizzaExpress has always strived to create quality time for customers. PizzaExpress is offering a great variety of Romana, Classic 10" and 13" pizzas and many more, enabling customers to select the right pizzas for different occasions that fits. If you are those who want the best of both worlds, Rock 'n Roll is the pizza we recommend. Serviced with mixed side salad, half of the pizza is dressed with tomato sauce and topped with pepperoni, mozzarella, cherry tomato and fresh basil, the other half calzone with salami Napoli, mozzarella, and tomato sauce. So, there you are, two flavours in one, with triple happiness
PizzaExpress
Shop 1203, 12/F