As La Fête des Pères (Father's Day) nears, it's about time to choose the perfect gift and some mouth-watering desserts for your beloved dad. Indulge him with the classic French patisserie recommended by agnès b. CAFÉ, exquisitely decorated with decadent flavours, a great way to convey your love and gratitude. On top of that, agnès b. CAFÉ has also prepared sweet pleasant surprises, doubly so to share the intimate memories with your beloved family. Je T'aime PaPa!
3 Classic French Patisseries that spells Love & Gratitude
Opéra
An iconic cake originated from France, name originates from the layers resembling the levels of an opera theatre. The cake features layers of coffee almond sponge, topped with coffee buttercream and chocolate ganache. With the integration of flavours, it will certainly tantalize your dad's taste buds.
Hazelnut Dacquoise
A luxurious dessert handed down from the palace, the name originates from the town Dax located in the southwest of France. With the crunchiness and creaminess in texture, this cake is made with almond dacquoise, separated with layers of chocolate praline mousse and hazelnuts, topped with almond powder. Get your dad's sweet tooth satisfied!
Mille-feuille
A classic dessert composed of three layers of flaky puff pastry filled with fresh mango and creamy custard. Prefect choice for the ones who love their desserts with a sour touch.
A Sweet Double Surprise by agnès b. CAFÉ
Get a Free Cup of Coffee while Enjoying the French Exquisite Cake
Receive a free coffee coupon for purchasing any one of the 3 selected Father's Day cakes during the period between 8 to 12 June, both online and in-store, and pick up from 16 to 19 June. Enjoy the French delicacy with your dad on your next visit and redeem the coupon along the way, it would certainly be an extra treat for the day!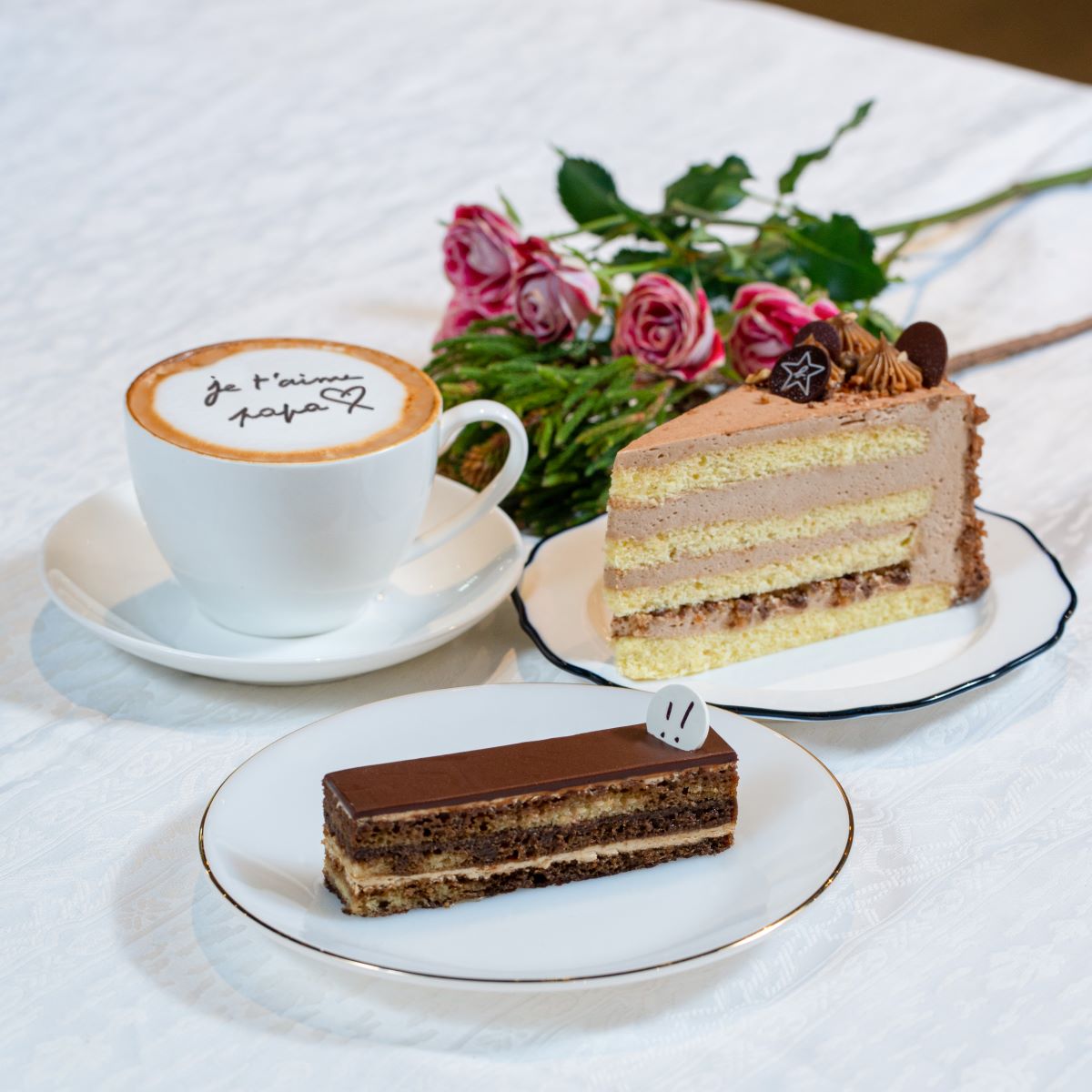 A Special Cup of Coffee that Translates Your Deepest Love
It's sometimes not an easy task to convey your love in words and might find it hard to express. On this special day, agnès b. CAFÉ helps you to go forward with a sweet little surprise. A special cup of coffee will be delivered to you for ordering the Father's Day special set (a sliced of Opéra or Chloé with a cappuccino). Just give us a Father's day related hint, e.g. "Daddy", "Papa" and we will make you a "Je T'aime PaPa" ("I Love You, Dad" in French) with latte art on your cappuccino. A chance to express your love and explain the patterns to your Dad, as if you're a French interpreter!
agnès b. CAFÉ
6/F Kiosk, 6/F