Mooncakes are one of the main food when spending happy moments with friends during Mid-Autumn. Among many popular choices, such as lotus seed mooncakes and custard mooncakes, various brands have also offered vegan mooncakes, healthy mooncakes, special mooncakes, low-sugar mooncakes, and other flavoured options in recent years. We have curated a selection of mooncake gift boxes from popular brands; take your time choosing your favourite to share with beloved ones while enjoying the moon and the festival, don't fret about being overwhelmed by options!
Tea WG – Glittering Stars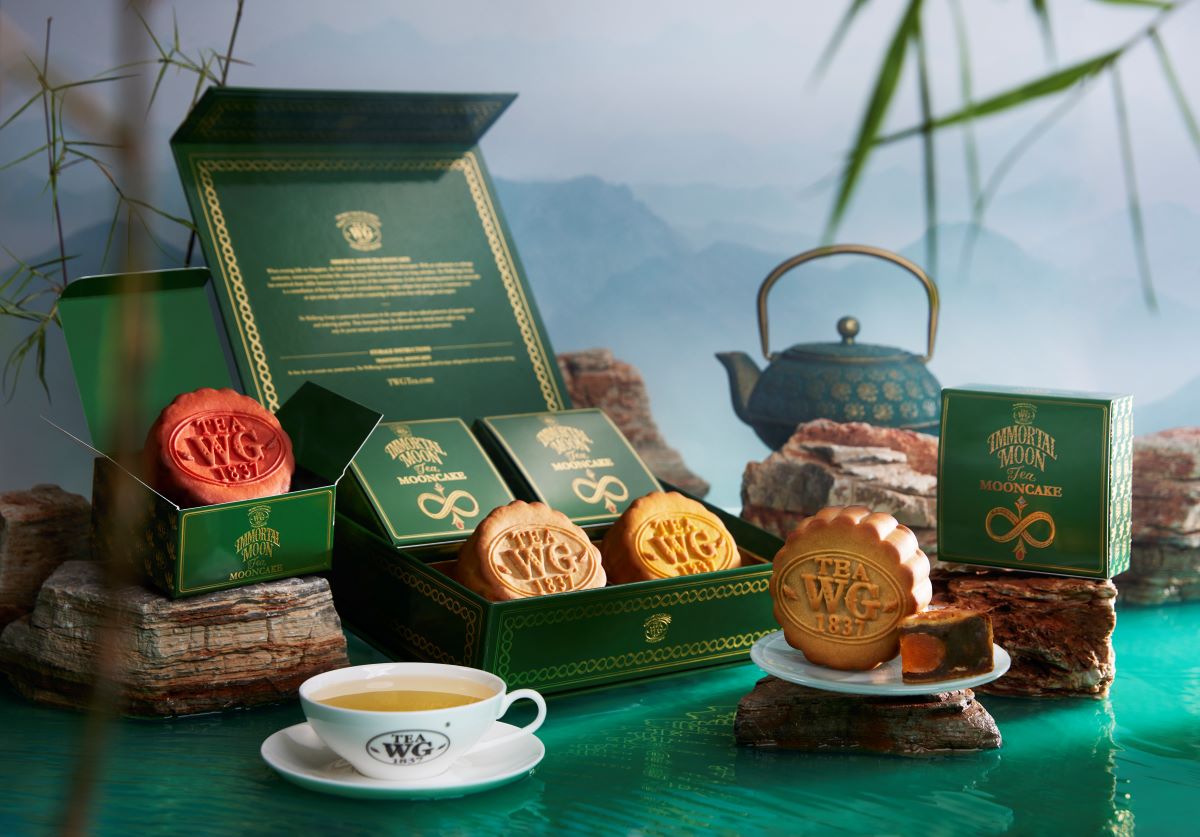 Singaporean luxury tea brand Tea WG conceived these edible fantasies to narrate the story of the constellations for this Mid-Autumn. A rich and enduring patisserie, the mooncake is a constellation of flavours, a balance of contradictions, a weighty eclipse that gives way to a luminous core, an epicurean delight infused with a scattering of tea leaves that will intrigue and inspire. Top choice 'Constellation', this iconic signature of the Mid-Autumn Festival, a golden crust encasing a smooth and elegant brown lotus filling infused with Singapore Breakfast Tea, a scattering of roasted melon seeds and an embedded salted egg yolk heart. A timeless favourite. The Mooncake Collection box also includes other unique tea-infused mooncakes: 'Blossom' infused with Bain de Roses Tea boasting a rich and smooth white lotus paste; 'Ruby' adorned in a perfectly baked ruby red crust, a smooth and delicate white lotus paste infused with Milk Oolong; and 'Harvest', an exquisite mooncake concealed in a golden-brown crust encases a Pu-Erh infused white lotus paste. In addition, this gift box also comes with 'Immortal Moon Haute Couture Tea', young leaves of white tea and green tea infused with soft, ripe berries, sending curls of sweet fragrance into the air.
Tea WG
Shop B240, B2/F
Lady M – Exquisitely Delicate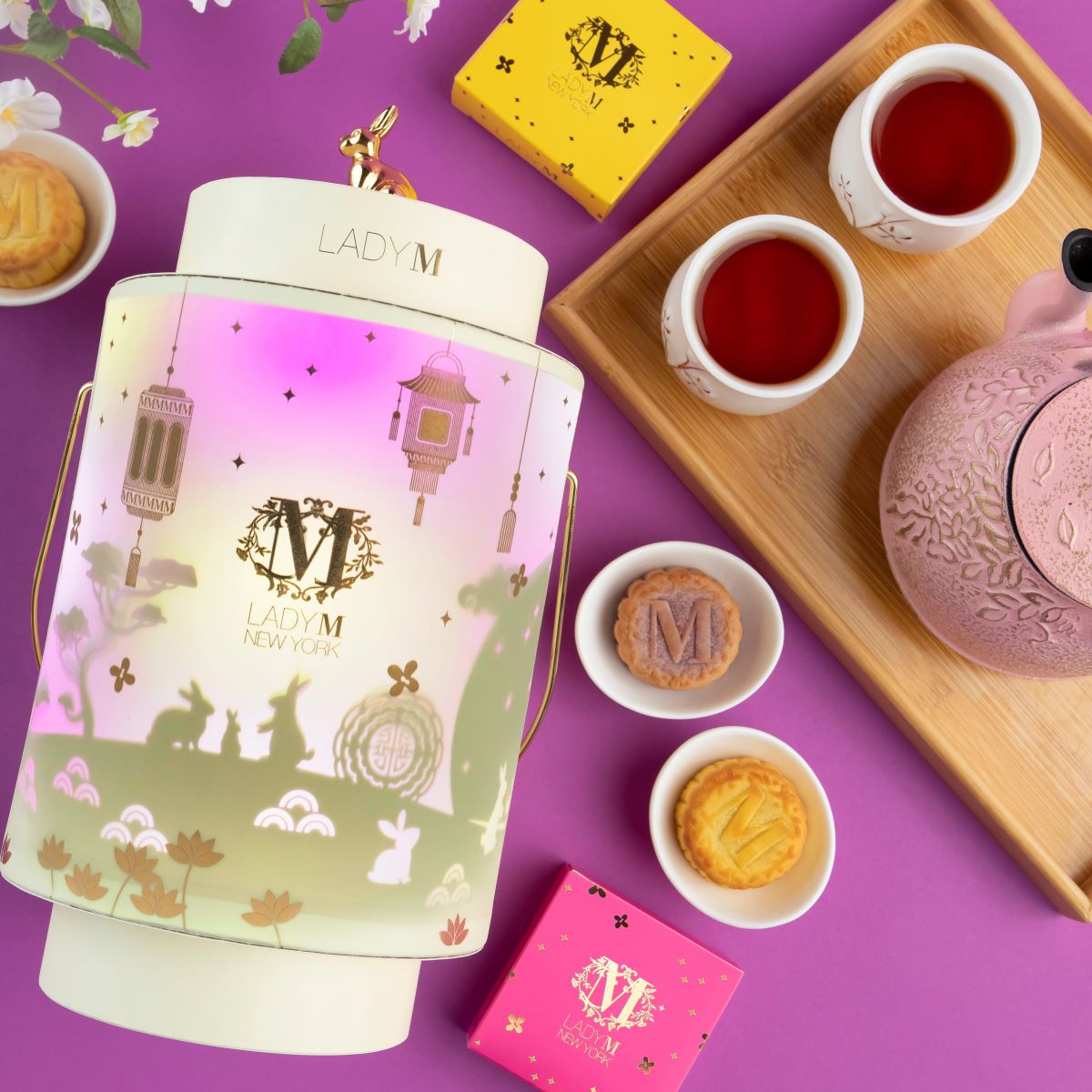 Luxury cake boutique Lady M finally launches the long-awaited Glowing Lights Mooncake Gift Set to celebrate Mid-Autumn Festival. Designed by Lady M at their US headquarters, the glow of this year's limited-edition spinning lantern illuminates an intricate, hidden moonlit scene. At the same time, the luxurious golden handle and exquisite foil details celebrate the elegance of this beloved holiday. Atop the lantern sits a lucky golden rabbit, symbolizing the annual celebration of the full moon and abundant autumn harvest. Each set comes with 6 pieces of Lady M miniature mooncakes stamped with the brand's iconic logo- a letter M. Featuring three decadent flavours – a sweet but fresh Earl Grey Mooncake; bold and rich Caramel Coffee Mooncake; and soft and buttery Purple Yam Custard Mooncake. Early birds can pre-order the set at a special price of HK$498 (original price HK$538) from today until 7th August, celebrating Mid-Autumn with this exquisitely delicate lantern.
Lady M
Kiosk G, 3/F
agnès b. – French Romance
Riding on the theme and sentiment of reunion, agnès b. launches a sustainable mooncake gift box inspired by traditional pomelo lanterns. Designed with the brand's classic star prints and a LED light at the bottom, the gift box can transform into a romantic starry sky lantern as an interior decor item that exudes a romantic vibe and is fun for children to play with. On top of the classic Lava Custard and Lava Chocolate mooncakes, agnès b. also brings you the brand-new Vegan Low-Sugar Earl Grey flavour, mainly catering to health-conscious elderlies, friends and vegetarians. From now till 31 August, customers can enjoy an early-bird offer of a complimentary agnès b. CAFÉ coffee coupon upon purchase of a box of mooncake, additional 12% off for UnionPay cardholders; let this be a joyful and tasty Mid-Autumn Festival!
agnès b. CAFÉ
Kiosk D, 6/F
Crostini – Traditional Artisan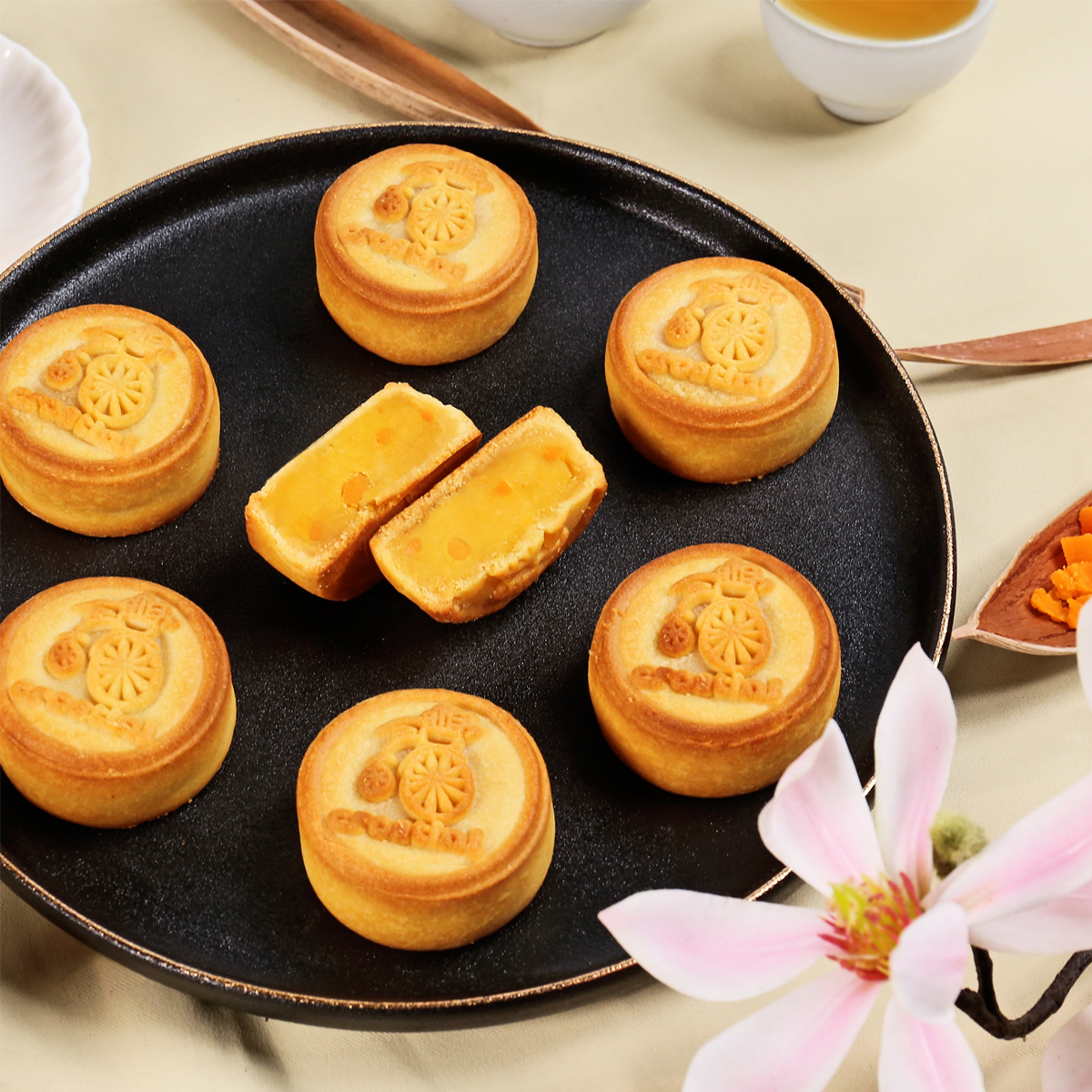 Crostini launches rare sugar egg custard mooncake, which is the first time in using Amazing Earth's rare sugar. 100% handmade traditional mooncake with exclusive packaging and highlighting low-sugar flavours. The light flavour of these mooncakes does not burden your taste buds at all, and it allows you to taste the salty and creamy flavour while enjoying the smooth custard filling. The aroma of milk and salted egg yolk complement each other. From today until 31 August, pre-order the gift box at an early bird price of HK$268.
Crostini
Shop 728-729,7/F
Art of Canton – Traditional and Innovation
Led by Executive Chef Tse, Art of Canton combines Japanese elements with classic Cantonese cuisine, presenting innovative masterpieces. For this Mid-Autumn, Art of Canton launches two classic mooncakes with delicate ingredients, natural & preservative-free and 100% made in Hong Kong. The mini lava custard mooncake is the highlight; the rich aroma coming from the golden pastry and the silky, creamy flavoursome egg custard spreads instantly over every bite, bringing you the ultimate and extreme luxury tasting journey. Classics will never go out of style. It's the perfect gift to share and enjoy with your friends and family this Mid-Autumn Festival.
Art of Canton
Shop 1001A, 10/F
Pak Loh Chiu Chow – Authentically Chiu Chow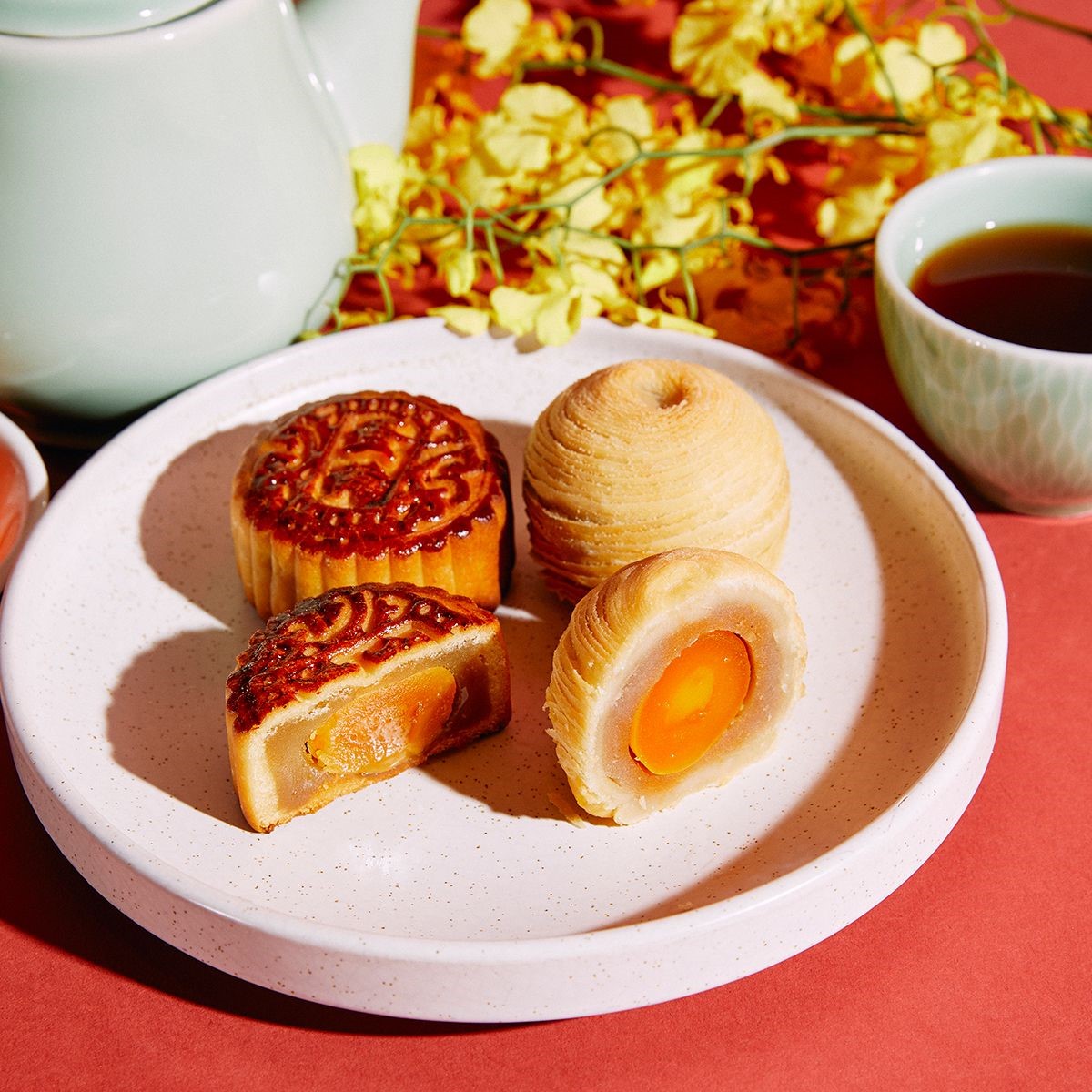 Pak Loh Chiu Chow launches authentic classic Chiu Chow mooncakes for this mid-autumn festival. With flavours such as Mung Bean and Taro paste, each featuring a delicious, salted egg yolk and encased in crispy layered, fried flaky pastry, sweet yet non-greasy, these mooncakes that are crispy on the outside and soft on the inside exude layers of aroma. Why not give this unique mooncake with authentic taste a try this season?
Pak Loh Chiu Chow
Shop 1002, 10/F
Lei Garden – Double Tasteful
In addition to the iconic traditional White Lotus Seed Paste Mooncake with Double Yolks, Lei Garden continues to offer their classic mini egg custard mooncake. One not to be missed is the "Double Happiness Mooncake Set" which includes the Traditional White Lotus Seed Paste Mooncake with Double Yolks and the Contemporary Mini Egg Custard Mooncake. Enjoying 2 flavours in one box set adds a beautiful touch to the festival. The mooncake box packaging is made from FSC-certified paper and serves as an eco-friendly choice that is reusable after consumption, leaving a green footprint on Earth while enjoying mooncakes.
Lei Garden
Shop 1003, 10/F
Gaia Group – Cherish The Moment
In collaboration with Mr. Lokyi Lai as the Creative Ambassador, Gaia Group launches the 'Blissful Harmony Mooncake' Gift set that includes mooncakes in 6 different flavours. Using only the finest selected ingredients along the baking procedure of the strictest quality, ensuring a consistent premium quality for all, this is the best mooncake to share with friends and beloved on this blissful festival! Unlike the past year, the 6 flavours for this year include traditional and innovative flavours. The traditional flavours include the Lotus Seed Paste Mooncake, with and without egg yolk, and Assorted Nuts with Premium Chinese Ham Mooncake; every bite becomes meaty and flavoursome. The Salted Egg Yolk with Meat Floss Mooncake, created by the Creative Ambassador, is an absolute standout in the 'innovative flavour' category. Using only the finest selected meat floss to be paired with the rich and fragrant salted egg yolk slowly baked at mild temperature, full of aroma yet non-greasy and fluffy. From now till 19 August, early birds can order these gift sets with 20% off discount.
Greenhouse
Shop 1004, 10/F
LUBUDS Choice – Extraordinarily Posh
MIAN Mid-Autumn Festival Mini Mooncake Gift Box' is supervised by 'MIAN' and Executive Chef Ronald Shao. The gift box includes tangerine peel with bean paste and egg yolk with white lotus paste flavours mini mooncakes, complete in extraordinarily posh packaging. The mini dried tangerine peel and bean paste mooncakes are made with Xinhui dried tangerine peel and top-grade red beans with a sweet and glutinous flavour, sweet with a hint of bitterness, and a long-lasting fruity aftertaste. The mini egg yolk and white lotus seed paste mooncakes are made with carefully selected sweet yet fragrant salted egg yolk with a golden colour, slow cooked with high-quality lotus seeds into a smooth white lotus seed paste carrying the heritage of traditional flavour. Besides that, 'MIAN' also launched '"NIKKA x LUBUDS", Deluxe Limited Edition Mid-Autumn Mooncake Gift Box. These mooncakes combine the richness of Japan's Taketsuru Pure Malt Whisky with coffee custard, dried tangerine bean paste, egg yolk, white lotus paste, and fig nuts, perfectly capturing the beauty of age and time. Whisky lovers should give this a try.
YUE
Shop 1301, 13/F